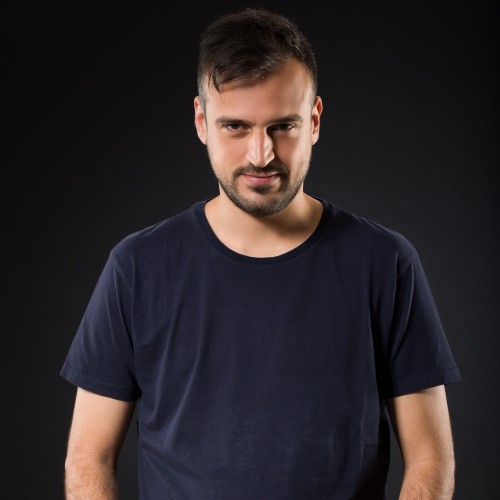 George Privatti
Born in a small village near the Mediterranean Barcelona, George Privatti starts experimenting his first strong feelings towards electronic music at the age of 17. Buying his first decks time later and strongly influenced by the Spanish rave parties taking place during those crazy90's, this Catalonian rapidly starts getting on track and playing for crowds congregated at illegal parties along the eastern region of Spain.
Privatti' special and intense mixing skills soon would be discovered by the Spanish and South American audience stepping him forward as one of the best new comers of the Spanish scene. 2009 is a turning point for him where he decides to shut himself in the studio following a techy sound conception, alternating fresh house elements with the most powered techno rhythm sandbeats. With and admirable sound evolution and an intrinsic dynamism applied and captured on his sets, in 2010 he founds his own label Privatti Records, focusing on new talents, consolidated artists and a more hard groovy tribal techno.
His ambition and opened style-mindtakes him to found two new labels; Krapula Muzikand La Pera Records, however, his real production skills come to the front while talking about his latest productions. 100% Pure, Formatik, 1605, Toolroom, Bitten, Deeperfect, FORM, Definitive or Looping have already trusted on his sounds, which have also hogged sets and charts of names as Richie Hawtin, UMEK, Joris Voorn, Mark Knight, Stefano Noferini or Sebastien Leger amongst others.
Privatti's musical adventures continue growing becoming part of the emblematic ElRow family, and starting to show his music skills as one of his residents. Not to forget his recent residencies at ElRow Ibiza at Privilege on 2013 and in Space the past 2014. Monegros Desert Festival, Soul Tech (Mexico), Selenic Soul (Mexico), Vertigo(CostaRica), Magazzini Generali (Milan), Break (Montpellier) or BT59 (Bordeaux) have also experimented his forceful and unforgettable quality and versatility at the decks
More Artists
Alex Pott

Marc Maya

Andres Campo

Bastian Bux

Baum

Tini Gessler

De La Swing

Toni Varga

Eddy M

JULIUS